Welcome to
Fairview Dental
Group
"I have had nothing but great experiences at this dental office. I've finally found the dentist for my family."
Request An Appointment
Family Dentistry & Specialty Care
PPO Dental Insurance Plans Accepted
Convenient Evening & Weekend Hours
Featured Services
Fairview Dental Group is a full-service dental practice that has decades of experience treating patients of all ages. Our skilled and caring dentists practice general and cosmetic dentistry with expertise ranging from fillings and restorations to porcelain veneers, dental crowns, bridges, bonding, and clear braces (Invisalign®).
Outstanding Dental Care in Westmont
The Fairview Dental Group team is committed to providing excellent dental care, with an emphasis on patient education and prevention. Whether you haven't seen a dentist in a while, you've been a patient for years, or you're looking for a new dentist nearby, we are here to help!
Learn More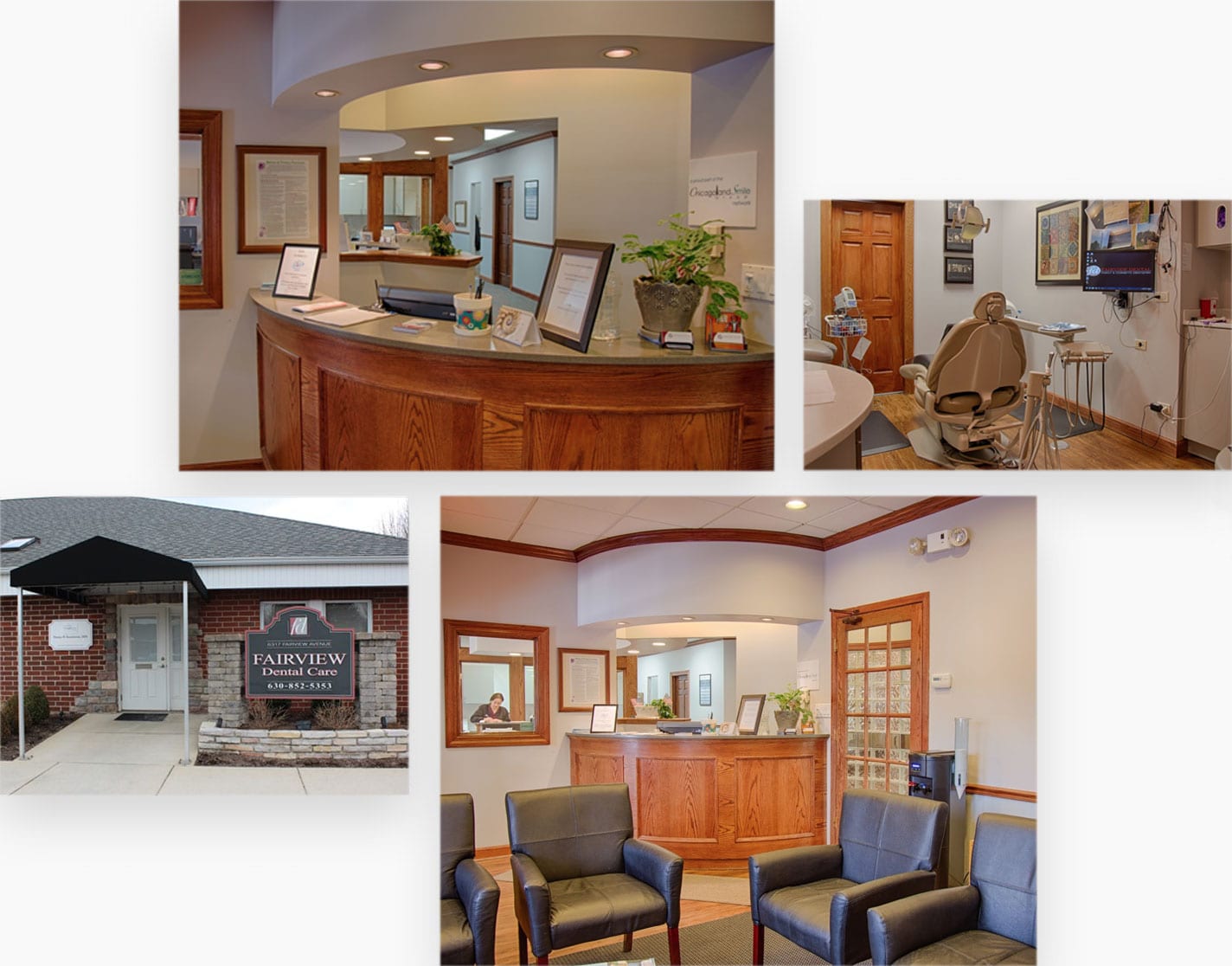 Special Offers
At Fairview Dental Group, we are committed to providing the best possible care and service to fit your budget.
Free Consultation! (Limited Time Only)
Have you wondered if newer options like dental implants or Invisalign (clear aligners) are right for you? Schedule a free consultation to find out! Our dentists will give you an honest evaluation of whether you're a candidate for these procedures. Simply call or email our dental office to schedule your free, no-obligation consultation.
$79 New Patient Special Offer *
We are happy to welcome new patients to our practice, even if they don't have dental insurance. Schedule your appointment now to get a discounted comprehensive exam, x-rays, and general preventative cleaning for only $79. Whether you're overdue for a dental check-up, or are new to the area and need a dentist, we are here help!
* Patients with insurance will receive insurance plan pricing. Valid in the absence of periodontal disease only.
Meet Our Dentists
Our highly-experienced and knowledgeable dentists are the experts Westmont trusts for exceptional dental care. With access to a team of specialists, our general dentists can provide comprehensive and collaborative diagnoses and treatment plans to best serve our patients.
Tom Brzostowski, DDS
General & Cosmetic Dentist
Fairview Dental Group was established in 1988 by Dr. Thomas Brzostowski. Dr. Brzostowski is a graduate of Illinois Benedictine University and Loyola University School of Dentistry.
Learn More
Monica Babbitt, DDS
Periodontist
Dr. Monica Babbitt earned her Doctorate Degree from the University of Illinois, Chicago in 1994. She completed her education at University of Nebraska in Lincoln with a surgical residency in Periodontology in 1997.
Learn More
Tooba Ajmal, DDS
General & Cosmetic Dentist
Dr. Tooba Ajmal earned her Doctor of Dental Surgery degree from the New York University College of Dentistry. She is an active member of the American Dental Association and the Chicago Dental Society.
Learn More
Maher Jandali Rifai, DMD, MD
Oral Surgeon
Dr. Jandali is a graduate of the Oral and Maxillofacial Surgery residency program at New York City's Columbia University, and earned his dental degree at McGill University.
Learn More
We Accept Insurance
Fairview Dental Group accepts most PPO (Preferred Provider Organization) insurance plans. Even if you're unsure of what is or isn't covered by your insurance, we will help you make the most of your benefits. Feel free to call us if you have questions about your coverage. Our friendly and helpful office staff is here to help!
See All
We'll even submit dental claims to insurance providers who are out-of-network to help maximize benefits.